BOOKS by EARL DOHERTY
JESUS: NEITHER GOD NOR MAN - The Case for a Mythical Jesus
Paperback now out of print, available by ebook through Amazon.com.


---
THE JESUS PUZZLE: Did Christianity Begin with a Mythical Christ?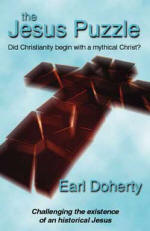 Amazon.com Check or Money Order
Now available in German
Das Jesus-Puzzle - Basiert das Christentum auf einer Legende? Angelika Lenz Verlag, Neustadt, Germany
Available from Hanrimwon Publishing House, Soeul, Korea
---
CHALLENGING THE VERDICT: A Cross-Examination of Lee Strobel's
The Case for Christ

Amazon.com Check or Money Order
---
When sending a check: if from Canada, it must be in Canadian funds; if from the U.S. or any offshore destination, it must be in U.S. funds. Or, if from Canada or the U.S., you may send a Money Order. If from the U.S., it must be an international Money Order, not a United States Postal Service money Order.
(Shipments to Canada go automatically by package rates.) Surface to offshore destinations, such as Europe, should take about 6-7 weeks, to the Far East and Australia a little longer.
If you wish the book to be sent by air: in the US, please add an extra $3.00; outside US and Canada airmail costs are extremely high, please add an extra $10.00. (Please note that where all shipping costs are concerned, I charge only about half the actual cost.)
Please make Check or Money Order out to: "AGE OF REASON PUBLICATIONS"
Send to:
Age of Reason Publications,
PO Box 36009, 1106 Wellington Street
Ottawa, ON
K1Y 4V3
Canada
Please give me notification when you have sent your order, if you have e-mail; by e-mailing to me at earldoherty@gmail.com. I will then notify you when your copy of the book has gone out. You can direct any enquiries or queries about your order to me at any time at that e-mail address.
All copies will be signed by the author.